Why are Chi Flat Irons good?
Chi flat irons are true ceramic flat irons – and they have become an entire hair-care category of their own. There are many models to choose from, and they all have great reviews and are loved by users everywhere. There are smaller travel chi irons and larger salon-quality versions. There is a Chi for every hair type and hair need.
Chi flat irons are:
1.  easy to use
2.  do not damage your hair
3.  heat up incredibly fast
4.  useful for many different types of hair
5.  last a long long time
Chi Comparison Chart
One thing that stands out about Chi is their customer service. They stand behind their products. The quality is great, and you will almost never run into a problem, but if you do you can rest assured that they will handle it quickly and professionally.
These tools are made to last, and some people have owned their original Chi irons for 10+ years.
Chi flat irons come in several sizes and materials. They range from .5" to 1.5" and they are known for being long-lasting and durable. They are constantly upgrading and updating the technology they use in their products.
The temperatures are adjustable, they have added in ion tech, and they always look cutting edge.
Now that we have gone over Chi in general, let's get more specific. Here are the top 5 Chi flat irons.
---
Top Overall Pick: CHI G2
The CHI G2 (Amazon) Second Generation has taken the ceramic plates that Chi is known for and added titanium. The titanium makes this flat iron more durable and long-lasting while also helping to smooth the ceramic and eliminate snags and pulling.
The G2 has 3 temperature settings, each with a short 40-second heat up time. The lowest temperature is only 370 degrees and is specifically for fine or fragile hair. It may take a little longer to straighten your hair in this setting, but it protects you from heat damage.
The next setting is 395 degrees, and this temp is great for medium to thick hair. It straightens faster and creates a super smooth finish. Finally, we get to 425 degrees. This is the highest temp, great for super thick and stubborn hair. Each setting is color-coded to make it easy to read, and it turns off within 1 hour for safety in case you forget on your way out the door. You may need a flat iron with teeth of your hair os very thick. Let's take a look at some pros and cons.
Pros
3 easy to read heat settings
Titanium added to the ceramic for strength and durability
Heats up in just 40 seconds
Settings for all hair types
Can be used for straightening, curling, making waves, and more
Cons
Heavy
The actual controls are on the inside, and this may be helpful to prevent accidental button presses but it makes it difficult to adjust once the iron is too hot
---
Most Versatile: CHI Tourmaline Ceramic Hairstyling 3-in-1 Iron
The CHI Tourmaline Ceramic Hairstyling 3-in-1 Iron (Amazon) is an innovative flat iron that does much more than straighten your hair. It can be used as both a flat iron and a curling iron. There are several heat settings to choose from, and there are also settings that help you control where that heat is concentrated.
This iron uses infrared heat and negative ions to create smooth, frizz-free styles easily and quickly while working hard to prevent damage to your hair. The flat iron itself is ¾" and the barrel for curling is 1". The length is 4 ¼" which Chi claims is ¾" longer than the average curling iron.
There are silicon strips on the sides of the iron to help the hair glide through. The power cord is a full 9' and swivels to make it easy to maneuver. The dual-voltage plug makes it easy to use anywhere, and for your safety, this iron comes with a 1-hour auto shut-off. Here are some pros and cons to get a better look.
Pros
Versatile settings for multiple uses
Curls and straightens
Longer barrel makes styling easier
Infrared and ionizer for smooth styling
Safety settings
Cons
Flat iron itself isn't very wide
It doesn't come with the heat glove you would expect with an iron that heats up on the outside
---
Best for Shine: CHI Expert Classic Tourmaline Ceramic Hairstyling Iron
The CHI Expert Classic Tourmaline Ceramic Hairstyling Iron uses floating tourmaline ceramic plates that emit infrared heat and negative ions to give you shiny, smooth, soft hair. It straightens quickly and easily. Because it is only 1", you can easily use it to add waves or curls as well.
This flat iron has all the bells and whistles Chi can offer. It has a 9' swivel cord, adjustable temperature, dual voltage, and an extremely fast 30-second heat up time. This flat iron works amazingly fast to get your hair styled and shiny so you can get out the door.
Ultimately, everyone wants shiny and healthy-looking hair. We also all want to get ready and be out the door quickly. The Chi Expert Classic is a great option for those reasons. Here are some pros and cons.
Pros
Adjustable heat settings
Tourmaline ceramic to make your hair shiny
Floating plates to prevent pulling
Only takes 30 seconds to heat up
Safety features help you feel confident during use
Cons
Only goes up to 410 degrees
Smaller than some competitors
---
Top Frizz Control: CHI Tourmaline Ceramic Hairstyling Iron 1 1/2″
The CHI Tourmaline Ceramic Hairstyling Iron 1 1/2″ (Amazon) has all of the amazing features of the previous model, but it is wider and better able to tame the frizz. It heats up in 30 seconds and allows you to get ready quickly and easily so you can get out the door.
The 9' swivel cord really gives you the ability to move around and find just the right angle so you can style your hair as you want to without getting tangled up. The automatic shut off along with the included storage case can keep you and your home safe.
The width of this particular Chi iron is awesome because it can go through more of your hair at once. That alone can cut down your styling time and help you be on your way. Let's take a look at some pros and cons to get a better overall picture.
Pros
Wide plates iron hair faster
Makes your hair super smooth and silky
Eliminates frizz
Multiple settings that are easy to control
Great safety features
Cons
Can't curl or wave because of the width
Only goes up to 410 degrees
---
Best on a Budget: CHI Smart Gemz Zirconium Titanium Travel Iron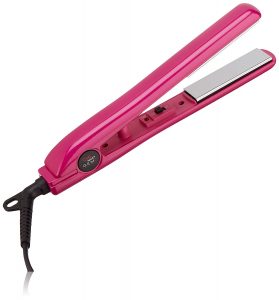 The CHI Smart Gemz Zirconium Titanium Travel Iron (Amazon) is an easy to use and easy to move flat iron. This model is excellent for traveling and taking on the go. It has a revolutionary blend of Zirconium and Titanium in the ceramic infrared floating plates. This overall design creates the smoothest and safest experience possible.
This flat iron can lock in moisture and natural oils while also protecting your hair from the excessive heat damage that can happen with your average heated hair device. This iron does not have the adjustability of the full-size models, but at less than half the price that isn't too bad.
Ultimately, the Smart Gemz Travel Iron may not have all of the same cool features of the larger models, but it has amazing smoothing power and is made just as well. Here are some pros and cons to get you started.
Pros
Affordable
Seals in moisture and protects your hair
Small and easy to travel with
Glides through the hair to prevent pulling
Swivel cord for ease of use
Cons
Does not have adjustability and only heats to 392 degrees
Does not have a wide styling surface
---
So what makes Chi flat irons good?
Chi makes revolutionary flat irons and styling products that can last you years and years. The question is not whether or not a Chi is the right tool for you, it is which Chi is the right tool for you.
---
F.A.Q.
Does Chi only make flat irons?
No! Chi makes all kinds of styling tools and hair care products. The flat irons are the most popular products, though.
What is the big deal with floating plates?
Floating plates make a huge difference in how your hair responds to the flat iron. One thing we can all agree on is that we want to avoid heat damage and damage to our hair in general. We can also all agree that we like to use heat to style our hair. Floating plates reduce hair pulling and damage by not chomping down on your hair and ripping it.
Why is Chi better than my cheaper flat iron?
Chi flat irons are made with proprietary blends of ceramics and other materials that combine to make your hair smooth and shiny while also preventing heat damage and locking in moisture.